X-ray is a very useful exam to help determine some conditions. In x-ray, radiation is used to create anatomical images. When taking an x-ray, radiation passes through the body and reaches a detector. The variation of density within the anatomical structures being imaged determines the amount of radiation that will reach the detector. The amount of radiation that reaches the detector is what creates the image. The variation in density from the anatomical structures create a gray scale within the image. All of the anatomical structures will show up in the image in different shades of grays, allowing the radiologist to distinguish between them.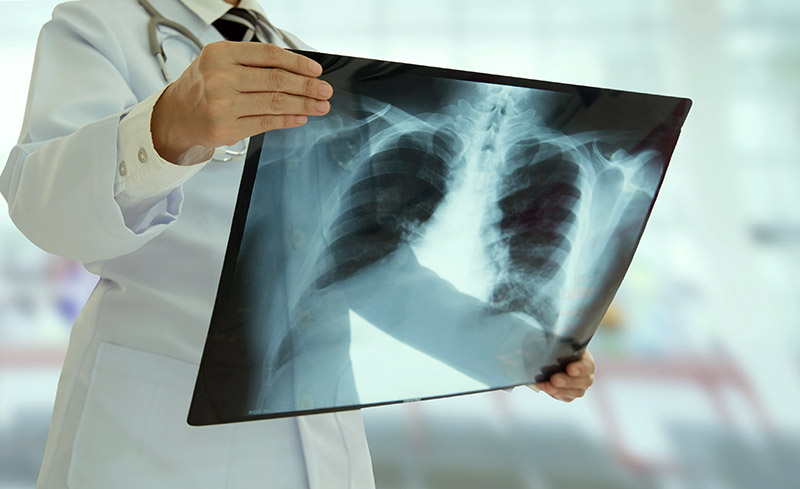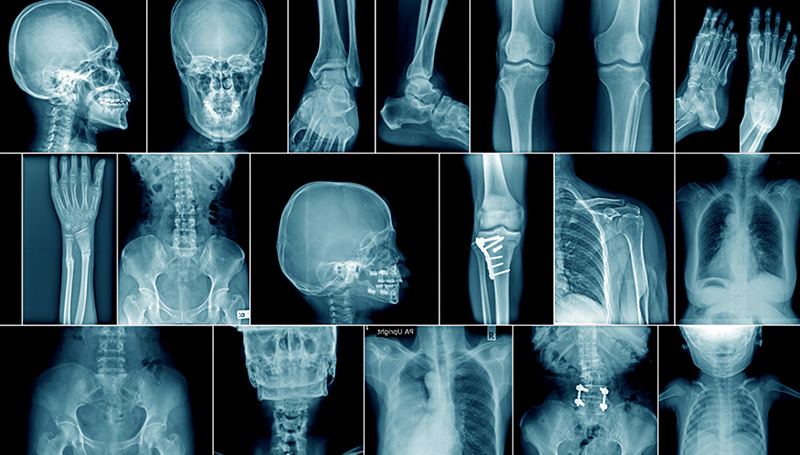 X-ray can be used to diagnose many different fractures, diseases, and infections involving may parts of the body such as:
Bones
X-ray is extremely useful in diagnosing many problems and conditions found, particularly in bone. A lot of these include fractures, infections, dislocation, arthritis, cancer, osteoporosis and many more. Sometimes x-ray is enough and no further imaging is required. However, while certain conditions may be found in x-ray, further examination in other imaging modalities may be require to better asses the findings.
Chest
X-ray is also a great tool that many physicians use to discover infections and calcification in the arteries. Doctors use chest x-rays to assess the heart, lungs, and chest wall. Some conditions found include pneumonia, cancer, emphysema and more. Physicians may recommend a chest x-ray if your symptoms include shortness of breath, chest pain, or a persistent cough.
Abdomen
X-ray is a helpful imaging technique to assess conditions within the abdomen. Your doctor may recommend an abdominal x-ray if you have a complaint involving your abdomen. Trauma, abdominal pain, bleeding, and jaundice are just some of many symptoms that may cause your doctor to recommend you getting an abdominal x-ray. Free fluid, free air, obstruction, calcification, and cancer are some conditions that may be discovered in x-ray.
Our Google Reviews
Simply one of the best imaging centers you will find in Orlando. I went there in December with my mom, as she had to do an MRI pelvis. We certainly didn't regret that we chose CFL diagnostic. Their imaging services are excellent, as they have the latest equipment and highly-qualified doctors. I strongly recommend it to anyone whether for MRI scan, consultation or treatment.
Very well-organized imaging center. I had my first ever MRI body with contrast done. The technician was very professional and made me feel very calm. I was a bit nervous after hearing a bunch of stories from others about feeling like they were in a coffin, but I closed my eyes before they rolled me in and took deep breaths, and kept myself calm. The noise made me fall asleep. It was fine, and I was comfortable. I didn't even expect the results of the MRI scan to be so fast. The cost of services is not overpriced, unlike the other places in Orlando. You will receive qualified assistance. I will strongly recommend this Diagnostic Imaging Center to all my friends and relatives.
X-ray Services
How Does X-Ray Work?
            Digital X-Ray is a quick and painless test to assess the patient's medical condition. X-Ray in Orlando is easy to obtain. A referral must be obtained from a physician first. Once the referral has been obtained, the exam can easily be done at a radiologic imaging center. X-Ray radiation passes through the human body and is caught with the help of a detector located behind the patient. Due to the variation in density in the human tissues within the body, the different anatomical structures, when seen in x-ray, show up in various shades of grays within a window scale. Using the variation of contrast within these images, medical radiologists can verify and diagnose certain conditions.
Patient Preparation for an X-Ray Procedure
            There are some suggestions on how to prepare for an x-ray:
 Wear comfortable clothing that have no metal.

Remove all metal objects such as jewelry and body piercings.

Diagnostic X-rays have the potential to be very harmful during pregnancy. Therefore, if possible, it is preferred to avoid any radiation related study during pregnancy. However, if the study is necessary an obstetrician's consent will be required prior to study.

In some scenarios fasting prior to an exam may be required. If a particular study requires fasting prior to, you should be notified during the scheduling process of your appointment.

If needed, a radiation shielding apron may be provided by the radiologic technologist. In order to protect the rest of the anatomical structures from the unnecessary radiation exposure.
How long will the procedure take?
   If you are looking for "X–ray near me", then you have come to the right page. X-Ray scans on average can take between 5 to 20 minutes, depending on the region and on how many regions need to be done.
How do I schedule an X-ray in Orlando?
            In the scenario where you feel you are in need of an x-ray, a referral must be obtained from a physician first. Once you have obtained the referral you can contact a diagnostic imaging center near you to have them schedule your appointment.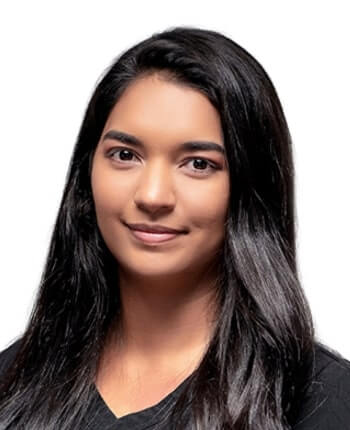 Other types of X-ray
Chest X-ray  | Digital x-ray | Head and skull X-ray | Foot  X-ray | Knee X-ray  | Neck X-ray | Hand and Wrist X-ray | Shoulder X–ray | X-ray for children  | X-ray Hip | X-ray Pelvis | X-ray Thoracic spine | X-ray center